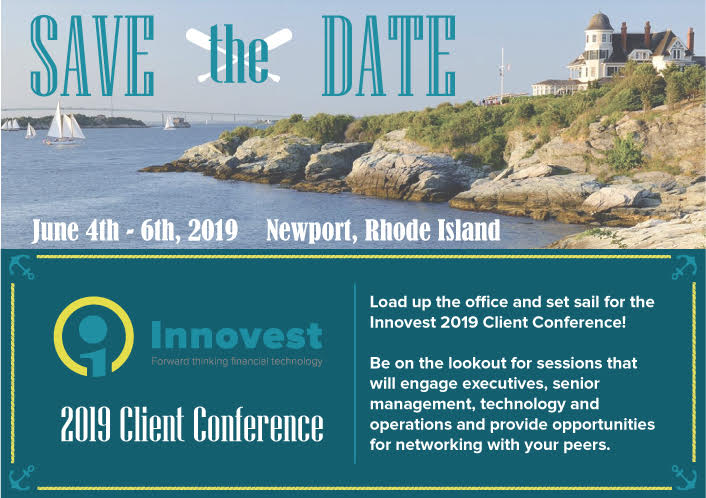 We have been working hard to bring you another great and exciting Innovest Client Conference in 2019!
Plan to bring everyone, this year we will have different tracks.
Executive
Technology
Operations
Security
We are excited to bring you new offerings and expand on previous ones.
Continuing Education Classes on Tuesday and Thursday.
CSOP & CTFA credits
InnoLab Expansion
Sessions will be offered Tuesday, Wednesday & Thursday
More Relationship Managers and Business Analysts will be available for your questions
Large monitors for easier screen sharing
These will be one-on-one sessions with the Innovest team, and give you an opportunity to discuss questions about the applications, training on a part of the application, questions about open issues, or another topic you would like to discuss.
**Remember that InnoLab sessions are optional and available on a first come first serve basis. Please make sure you sign up quickly, if you want to get one.**
Breakout sessions to cover all Innovest business segments
Trust
IRA
Family Office
Charitable
Payments
Unique Assets
Newport, Rhode Island is an amazing town full of history and places to explore. The Marriott Newport is located within walking distance to much of downtown, where there are plenty of shops and restaurants to visit while you are there.
We will be bringing you closer to Newport's rich history with tours of several of the grandest Mansions. Our Welcome Reception will take place at the Tennis Hall of Fame, where you will be able to catch up with colleagues and vendors, while viewing the history of Tennis in the museum. We will also have a little surprise for you while you're there!
Our Dinner on Wednesday will be an event you won't want to miss! We will be holding a Great Gatsby themed cocktail reception and dinner at the Rosecliff Mansion. This location has been used for scenes in movies such as The Great Gatsby and True Lies. While there you will be able to tour parts of the Mansion and try your hand at croquet while mingling on the vast lawn overlooking the Atlantic Ocean.
***Gatsby themed dress is not required but definitely encouraged.***
The registration website is now open. Registration Website