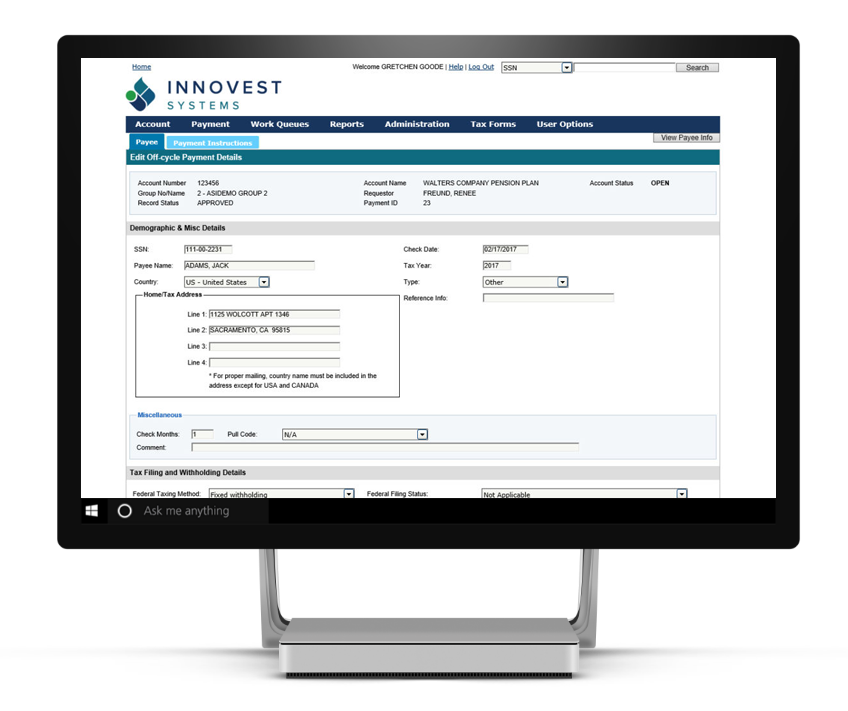 With over 40 years of experience in the payments industry, InnoPay brings focus, dedication, and technology to retirement and benefit administrators. As the baby boomers retire, the accumulation of wealth that has been underway for some time will change into a distribution of wealth. As the volume of retirement benefit payments increase, so will the complexity and need for automation. Through Paying Agent Services and the InnoPay platform, we offer our clients a market-proven, SaaS based service that includes tax remittance, tax reporting, print and mail fulfillment, and direct, online customer access to tax forms.
Online Plan Sponsor Access

Our platform is delivered exclusively through secure web channels so we can offer online access to plan sponsors.

1099 Tax Form Generation & Corrections

We can take your payment data and create and file all of the applicable 1099 IRS forms, unburdening your firm from the stress of annual tax filings

Call Center Support

Payment processing sometimes can mean lots of phone calls from customers. Our call center handles tens of thousands of calls per year and has the payment expertise to set your customers at ease.

Periodic Payment for Federal and State Tax Calculations & Maintenance of Tax Tables

Let us keep track of the ever-changing tax tables with systematic updates when any tax data changes.
Secure print and mailing abilities

Fulfillment is a risky thing, and even the best tax document is worthless if it's compromised by the wrong kind of attention. Proven by our SSAE18 SOC I Type II certification, we know how to be discreet with the most confidential of reports.

Paying Agent Services

Completely offload your payment needs to us via our Paying Agent Services. With Paying Agent Services, we will remit federal and state taxes on your behalf, manage OFAC requirements, monitor stale dated checks, handle escheatment, and more.

Lower cost, better service

We've invested so abundantly in our fulfillment and mailing facilities that customers often experience cost savings while also benefiting from our high quality and efficient service.
Much, much, more
InnoPay's software package includes...
Periodic and Lump Sum Federal & State Calculations
Tax Form Reprints
Maintenance of Tax Tables
Email Notifications
Automated Workflows
OFAC Processing
Federal and State Withholding Remittance
Future Payment Change Functionality