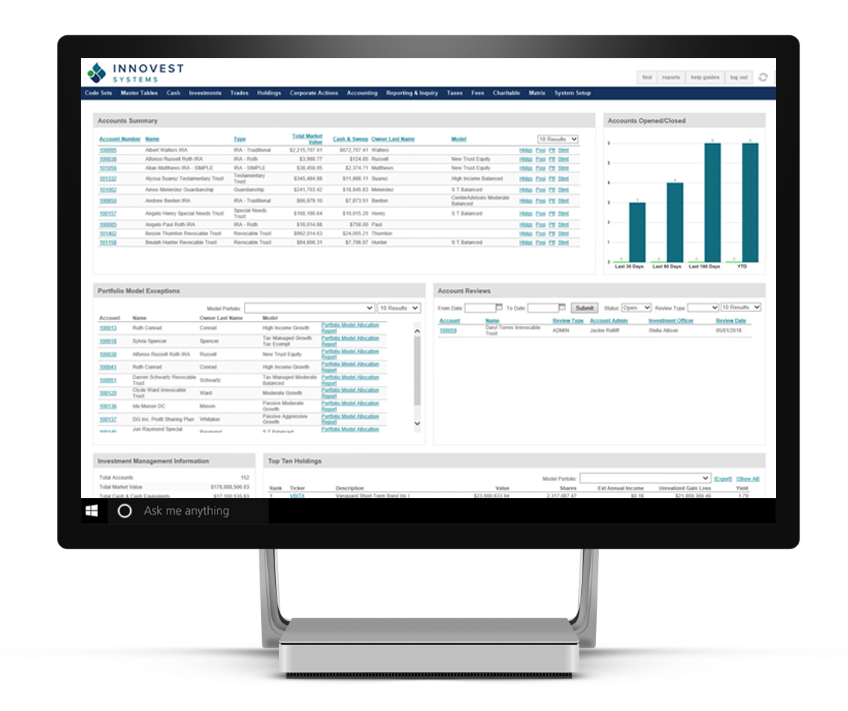 Innovest's flagship product, InnoTrust, offers a dramatically better way to support the accounting and reporting needs of trust companies, banks, private banks, retirement plan administrators, and others that need to control, account for and report on assets held in trust, wealth, and retirement accounts.
Smooth Integration And User-friendly Software

We are web services/API enabled, allowing seamless third-party software and internal program compatibility, topped with easy access to customer data through the user-friendly navigation.

Comprehensive Accounting And Tax Reporting

Full principal, income, and tax lot accounting services, along with cost basis tracking and a Tax Reporting functionality that includes system-generated 1099s, 5498s, and tax worksheets.

Reg-9/Admin Review functionality

Includes exception tracking, configurable questions and answers, and follow-up tickler tracking.

Customized Reporting Options

We make creating and retrieving custom reports easy and intuitive, with a fully supportive system that provides support for any need, from diverse benefit portfolios to a company insurance policy.

Robust Fee Calculation

Our platform makes multiple fee schedules, fee tiers, and other methodologies available to you for easy billing.
Trading And Portfolio Management Functions

We provide a full suite of portfolio management tools including rebalancing, trade blotters, trade order management, and integrated performance reporting.

Built-in Computation For The Figures You Need

Required Minimum Distribution calculation with automatic posting of RMD payments. Robust portfolio rebalancing. Informative "what-if" analysis. We know the numbers, and we know how to give them to you at a moment's notice.

State Of The Art Charitable Functionality

The industry's best charitable giving functionality, supporting CRUTs, CRATs, NIMCRUTs, and other charitable investment vehicles.

Multicurrency Compatible

In today's expanding global economy, it's important that your system can keep up with the changing needs of your business without requiring a complex and expensive conversion. InnoTrust was built with multi-currency capabilities from the start so whether you need multi-currency today or want to be prepared for the future, feel confident knowing your system will be there to grow with you.
Much, much, more
InnoTrust's software package includes addons that will fill in everything else your company needs, including...
Custody Services
InnoVue Client Web Portal
Portfolio Management
OFAC Support
Proposal Generation
Innovest Data Aggregation Services
Performance Reporting
Trade Execution
Income Reclassification
Securities Pricing